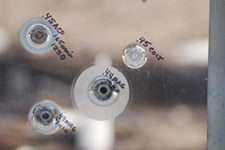 There is no doubt that crime statistics and news stories influence the way you feel about operating a business. While it's not always healthy to dwell on the risks involved, we all have to live in reality and prepare for the worst while hoping for the best. With the world being far more unpredictable in violence and theft, what should you do to protect your business?
Even if you think no one would do anything to you or your employees, you never know what kind of situations you might encounter. It is hard to predict crimes like robberies or random acts of violence, and because of that, we want you to be proactive in the steps you take to ensure the safety of all aspects of your business.
Your best protection for these unpredictable situations is a bulletproof glass door, and we at Isotec can help you decide and custom build doors with the best protection to cover all your business security needs.
1. Making Personal and Business Security Important
No matter what your business is, you want to protect yourself and the business you own. Many businesses take reactive measures to respond to threats after the fact. In places like dispensaries, for instance, they typically have security technologies available like cameras or even guards. While these are essential, they do more for responding to the situation rather than preventing the occurrence.
In a world with increasing crime levels and unexplained violent acts, the reactive approach to protection is not the only option. Cameras offer information following the crime and, according to the angles and conditions of the crime, may not always be reliable. Even security guards are subject to human failure at times, though their service can often be very effective.
Regardless of the situation; however, a bulletproof glass door is guaranteed to protect your business from the threat in a proactive approach – during the crime rather than in response to the threat.
On a business level, the effectiveness of preventing the crime at the entry of your business has other positive results. Not only are you physically protecting yourself, but a bulletproof glass door also protects your business from damage, from loss of business capital due to theft, or even from the unwanted publicity of a violent act. In fact, the installation of this security measure can even uphold the security of your business after-hours without dedicating additional resources to preventing unexpected crimes.
2. Protecting Your Employees and Customers
You also want to protect those who work for you, as well as loyal customers who spend time in your company. The thought of someone inflicting violence on your employees or customers is no doubt your worst nightmare, especially when their safety falls on your shoulders.
Using a bulletproof glass door protects on a psychological level for all of you. When your customers know you have a protective door, they'll have more peace of mind about spending time in your building, particularly if your company resides in a violent neighborhood.
The same goes for your employees. Some of them may work near the entrance where they could face a violent visitor. However, keep in mind bulletproof glass doors aren't always installed at entrances. They can go anywhere in a building, including in entrances to different departments or office quarters.
So what kind of bulletproof glass door should you choose? They aren't alike, and you need to know the materials available for the best protection and styling.
3. Finding the Best Types and Levels of Bulletproof Doors
Aesthetics play a big factor in how companies choose bulletproof glass doors. While standard doors are made of mostly steel, you might prefer a ballistic door instead.
A ballistic door gives you far more styling possibilities like using wood panels or brass hardware. Those of you with a business relying on visual appeal should consider this type of versatile door.
Businesses like pawn shops and banks often prefer a steel door or even an acrylic door. These doors are clearly protective shields, but in the high-risk locations make the need for these types of security measures somewhat more obvious.
Most government agencies, however, prefer veneered doors for the ultimate security. These usually add wood and look the most appealing in professional environments.
Isotec uses ballistic resistant glass panels on all their doors for the best protection in the industry. Visit our site to learn more about our bulletproof glass doors and the access control technologies we offer for complete company safety.