OPENGATE - Weapon Detection System
At Isotec Security, we pride ourselves on always being innovators on the cutting edge of security technology and Ceia's portable – yes, portable – OPENGATE metal detectors proved to be one of the most groundbreaking innovations we've ever seen in the industry. As one of the first integrators with access to this new technology, we a thrilled to be able to offer it alongside the Ceia metal detectors we use in our Security Entrances.
The OPENGATE technology is an unprecedented and revolutionary way to screen people with luggage, backpacks, purses and bags for threat detection without the need for the carrying items to be divested. The weapons detection system is also wire-free, meaning portability is not dependent on an outlet being nearby or the amount of extension cords you have on hand. When a weapon or mass casualty metal threat is detected, acoustic and optical signals located at the top of each column will activate to provide simultaneous status and alarm indications.
At 25 pounds each, the columns are light enough to carry and come with comfortable handles to make relocation to and from any environment hassle-free. The portability is easily one of the best features of our OPENGATE metal detectors and makes them great for use in public areas that need security but don't have the space, means, or financials for dedicated safety entrances. Our weapons detection system is ideal for outdoor events like concerts, festivals, and sporting events, as these OPENGATE columns can make mass safety manageable.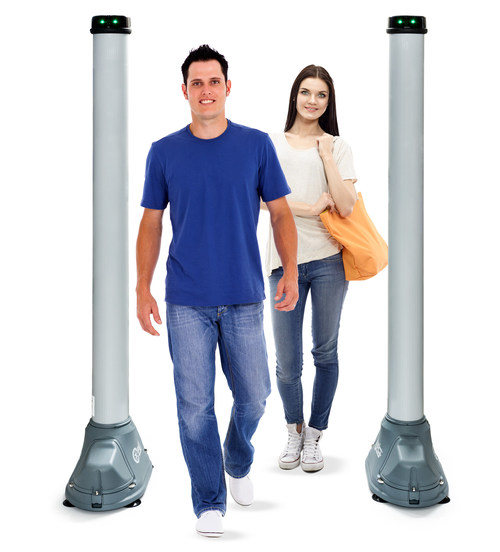 The system comes at a very cost-effective price point and can quickly be set up and then stored away without disrupting work flow. The portability also means more than one location can be secure at different points throughout the day – OPENGATE metal detectors can be picked up and moved to the next location without worrying about heavy weight, wires, or complex assembly and disassembly processes. This brings security options to areas that were once blocked by obstacles like elevators or stairs.  The convenience and ease offered by the OPENGATE weapons detection system, coupled with affordability, are unmatched.  
Ceia did not sacrifice sturdiness for OPENGATE's portability. The system is built to withstand the elements; from rain and wind to extreme temperatures, and works for an extended period of time, able to run all day long. With OPENGATE metal detectors, this dependable system is powered by 2 batteries that are easily accessible at the bottom of each column that can be switched out and charged, when need be, for uninterrupted service. 
It takes OPENGATE a little under a minute to be fully operational after being switched on, ready for whatever crowds await it. Once tested at 2,500 individuals an hour, the unbelievably high throughput is another benefit, vastly outpacing standard metal detectors. Thanks to its advanced precision detection, the Open Gate system does not require people to put their bags or other carrying items into a separate weapons detection system, speeding up detection time. Items like keys, wallets, water bottles, vapes, and laptops no longer present the same threat to slowdown the flow of people like metal detectors have in the past. 
To further simplify this technology, the OPENGATE system can be remotely managed with the OPENGATE app. The app makes it easy to set detection and signaling parameters from a smartphone or tablet and is available for both iOS and Android operating systems.
With its portability, incredible discrimination capabilities, massive throughput rates, and affordability the OPENGATE metal detector system is a game changer. Isotec Security is excited to be able to offer this revolutionary weapons detecion system to our clients, along with all our other great security solutions like Mantrap Security Doors, Automated Security Doors, Interlocking Doors, and more that are designed around your Facility's Form, Fit, and Functionality. Contact us today and schedule a physical risk assessment to see how Isotec Security can help secure all aspects of your business!