Commercial Security Doors & Access Control Systems
Your building's design, structure, and staff influence the way people feel and act within it. Effective ergonomics create comfort, increase productivity, and improve business opportunities. Businesses providing these facets ensure a superior customer experience.
Now imagine the impact you can have by making sure you have an environment where everyone feels safe? Commercial security doors that protect employees and patrons from tools of physical harm, intimidation or technical sabotage can protect what matters most.
Isotec's  Safety Entrances®  allow you to take a proactive approach to protect what matters by automatically detecting, isolating, and preventing identifiable threats from ever entering your building through commercial door entry systems. Our configurable commercial access control systems are built inside frameworks that blend with your building's aesthetics. Advanced technologies and commercial security doors discourage predators by eliminating the element of an ambush while welcoming patrons and reassuring them of their safety. Our commercial security door systems don't take breaks or sick days. They don't flinch or blink, and they don't make judgment calls. We are one of the nation's top commercial security companies' for a reason: because our commercial entry systems don't miss a thing.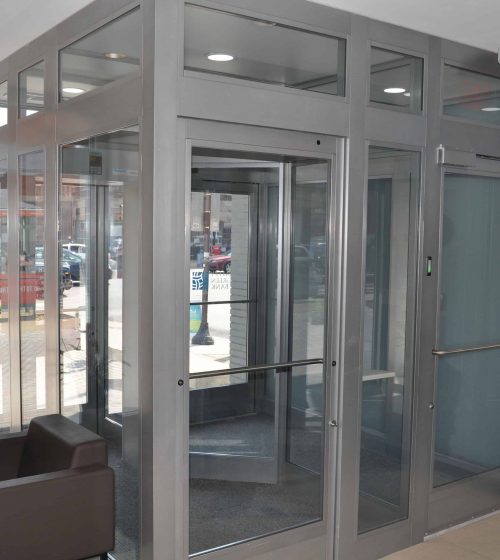 The simple, open design of our ballistic-resistant doors and frames, magnetic locks, and configurable metal detection algorithms provide fail-safe security with 100% performance objectivity. The safety measures listed above along with metal and glass business security doors are a few of the great products that our commercial security company offers.
Safety Entrances® from our commercial access control systems have less than a two-year return on investment. Routine service and maintenance ensure system durability for more than 15 years. Isotec's advancing technologies are reverse compatible with older commercial security doors. This ensures standardized system functionality throughout your enterprise, now and for years to come.
Remote system diagnostics by trained & certified technicians can provide real-time service, with virtual on-site assistance in minutes. In addition, self- monitoring features offer system maintenance reminders as part of our proactive service approach.
Commercial Access Control System Manufacturers
Your customers, visitors, and employees deserve safe spaces, so ask for the only commercial Access Control Manufacturer in the US solely dedicated to door access control and certified by the Department of Homeland Security.
Ask for the company that ensures excellence. Learn more about our access control systems for commercial and office buildings, and see how your business can benefit from Isotec's commercial door security.