What are Ballistic Doors?
In movies and TV shows, the bulletproof glass seen in banks or car windows is often depicted as indestructible. However, this isn't actually the case – as the glass is neither bulletproof nor actual glass. The "glass" is actually acrylic or polycarbonate plastic, and the name is a misnomer, as the correct term for "bulletproof" glass is actually bullet resistant glass. While we shouldn't believe everything that we see in the movies, bullet resistant doors, or "bullet proof" doors, play a very important role in a building's physical security. In fact, ballistic rated doors are often commonplace in government buildings, municipal facilities, or police stations.
Isotec's Bullet Resistant Doors
Dimensions and security requirements often differ, so our ballistic security doors are manufactured to be risk appropriate to the facility being protected. Our forte is designing systems that are site-specific, meaning each one of our ballistic doors is designed to your facility's aesthetic requirements, including the actual door sizes.
Our ballistic doors are created by using a mix of 6061 T65 high tensile strength aluminum alloy; paired alongside 1/8" aluminum tubing for UL Level I ballistic protection or ¼" thick aluminum tubing for UL Level II protection, and bullet resistant glass that holds a UL 752 classification in either a UL Level I or UL Level II glass rating.
A ballistic security door ("bullet proof door") with UL Level I glass can withstand high-velocity rounds from a 9MM handgun; while, ballistic doors with UL Level II glass are tested to stop high-velocity rounds from a .357 magnum handgun. Meaning that our bullet-resistant doors can be designed to withstand high-velocity rounds from an AK-47 or other high-powered rifles.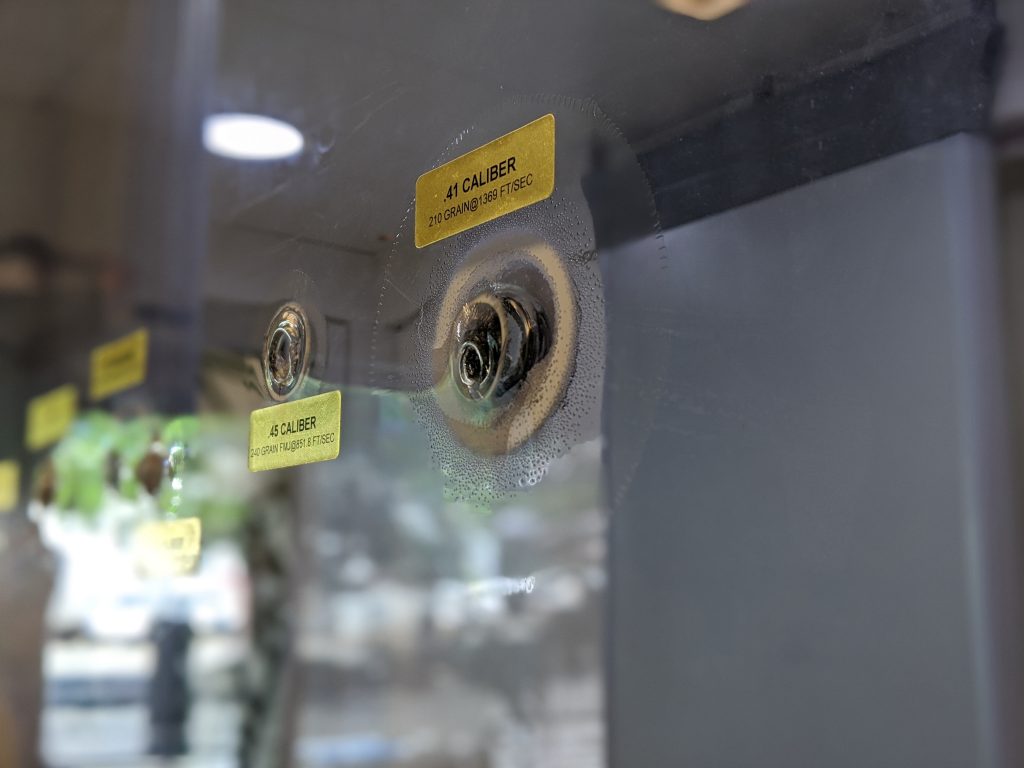 We understand that the performance of a ballistic door is a mission-critical requirement of an access control system. So, we only recommend UL 752 certified bullet-resistant glass for our ballistic security doors, as this specification is in compliance with the Department of Homeland Security's (DHS) Anti-terrorism Technology requirement.
Furthermore, our ballistic doors are heavier than our standard commercial access control. We use concealed door closers that are warrantied for 10 years, along with heavy-duty door closers that are protected by a solid aluminum header. This concealment prevents damage from vandalism or armed assault.
Our bulletproof doors are also swinging doors. They can open from the right side or left side but can be designed to be bi-directional and swing in a 180-degree arch.
Finally, they are also rated for high winds in excess of 115 mph, so they meet the code for requirements for areas prone to tropical storms and hurricanes such as Florida, Louisiana, South Carolina, North Carolina, and Puerto Rico.
For more information about our dependable ballistic door security solutions, contact Isotec Security now.
Our Access Control Solutions