Single Lane Access Control Entrances: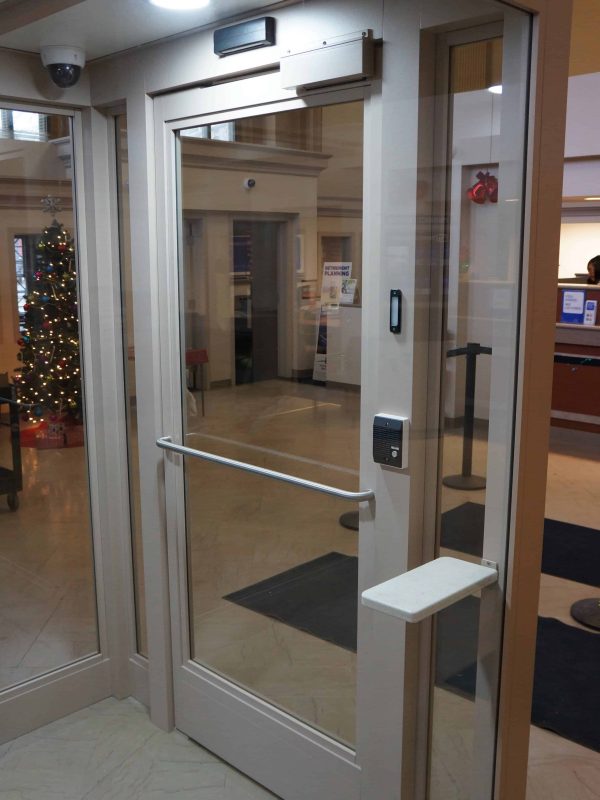 The Isotec Security, Inc. Single Lane Access Control Entrance is a compact, bi-directional interlocking door entrance designed to prevent unauthorized personnel from entering a facility. This entrance incorporates a high strength tubular aluminum structure with heavy-duty narrow stile doors and closer hardware. Locks, sensors, displays, and control electronics are incorporated to provide a variety of interlock functions. Solid state relays cycle tested to 3 million cycles ensures operational longevity.
Hardware and operational scenarios for site-specific applications are available along with UL® (Underwriters Laboratory) ballistic resistant glass & frames. The portal comes completely wired, partially assembled and ready to install. Additionally, Isotec's hardwired Synergy Console or wireless tablet monitor, the entrance in use, diagnose alarms, and hardware functionality. In turn, the entrance can serve in a "stand-alone" security capacity or seamlessly interface with legacy security networks.
The structure of the Single Lane Access Control Entrance is fabricated from extruded high tensile strength aluminum tubing, providing an extremely durable platform. The structure is fitted with 36" x 84" narrow stile heavy-duty doors, closers, and related hardware to accommodate heavy loads from a variety of ballistic composite panels up to UL Level III. The standard glass panels provided in this structure meet UL 972 anti-attack specifications. Each door is provided with 1" diameter solid brushed stainless steel push bar and pull handles to provide an attractive appearance to the structure. The LCN door closers are cycle tested to 10 million cycles.
Features of This Control Entrance:

Each door is provided with a 1200lb. overhead magnetic lock and sensors for low maintenance operation. Also provided is a fail secure deadbolt lock on the high side door in case of any power failure. Each Access Control Entrance is provided with a Programmable Logic Controller that enables site-specific operational capabilities. Multiple sensors, are coupled with Isotec's optional Anti-tailgating sensors, enforce single person occupancy and entrance protocols. The controller and all selected devices are powered by a UL Listed 24 Volt 6.5Amp power supply located in a lockable, tampered protected swing down ceiling panel.
Additional options include Isotec's Covert Concealed Camera, custom color matching, multi-view video package, Vigilant Left Objects Detection, and multiple annunciator voice prompts. Isotec
Security, Inc. provides a full array of installation and technical support services including: Forward Observation Site Surveys; site-specific System Design, software development and, Engineering. We also provide Installation training, operator training, technician certification programs, and 24/7 Product & Technical Support.
Please note: The Single Lane Access Control Entrance's minimum required rough opening dimensions are: a 67" width, 91" height, and 69" of depth.
Download our free product brochure here: Single Lane Access Control Entrance