Isotec's Synergy Operating System & Tablet:
Learn About The Unsurpassed Functionality of Our New Tablets:
Isotec's Synergy tablet offers the best of both worlds; Ethernet connectivity or wireless. The choice is yours.  The Synergy tablets now control the ladder logic that runs our Safety Entrances® and Access Control Entrances. The encrypted tablets can be Ethernet wired for highest possible security. Isotec engineers have taken our base operating system a step further and developed our Access Control Electronics (ACE) package that can repair old security vestibules as well.
Synergy IQ Features:
The standard features for our Synergy IQ electronics repair includes either the Elegant Desktop or Rugged Rover tablets (or Both!), one IP Intercom, one IP camera, voice prompts, and the requisite electronics and hardware required as determined by the operational condition of the existing vestibule.
To learn more about Synergy IQ and the ACE Security Operating System call Isotec at (720) 545-2816 or contact us at info@isotecinc.com today!
Download our free product brochure here: Access Control Electronics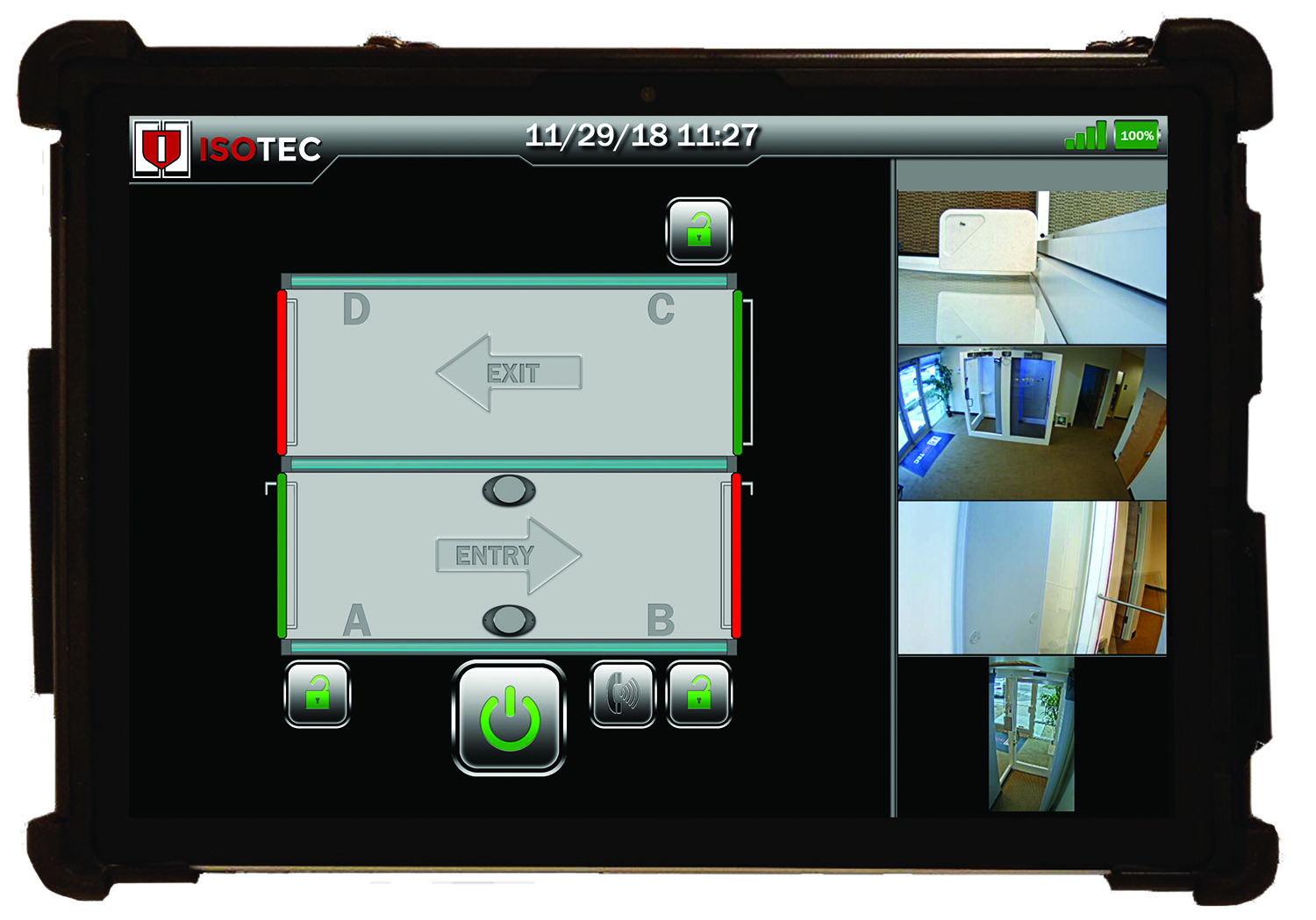 Synergy IQ Operating Features:
One or Two separate handheld tablet stations; Elegant Desktop or Rugged Rover Models
More intuitive operator screen than the original Synergy console
Windows Based App with
Ethernet Wired or Wireless with WPA2-PSK Encryption
One to Four IP HD cameras supported

 Simultaneous view of all four cameras on main control screen
Touch to view full screen, high resolution, and full rate image of any camera
Touch to zoom in on full screen view for more detailed observation

Up to three SIP Duplex Intercom remote stations in Safety Entrance®
Synergy IQ System Functionality:
Full Safety Entrance® command & control, IP cameras, and IP intercoms simultaneously visible on a high resolution 1080P color touchscreen
Multiple On Screen Indicators of system status:
Multicolor door state indication
Dynamic Occupancy symbols (to get operator attention)
Intercom controls intuitively displayed by their physical location on the entrance display
Multi-level Alarm display/controls: Emergency Egress Activated, System Override, Remote Receiver Active (by door), Exit Breach, Customer Counter triggered, Maintenance Required
Security monitoring: tamper detected; occupied too long, door held open
Lost Tablet Detection with screen alerts and alarm output
Built in Diagnostics: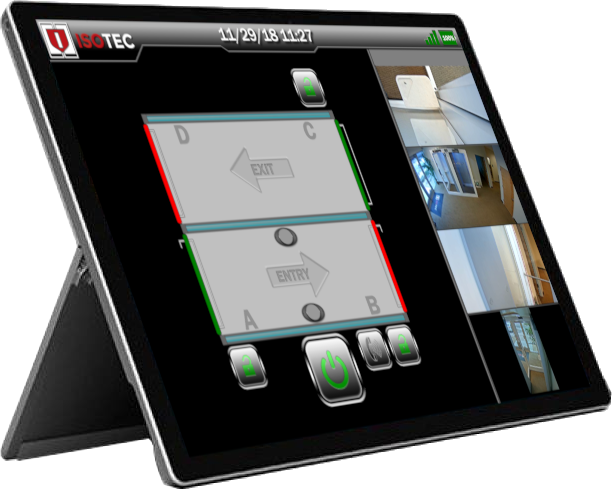 Health Check display
Built-in Self-Test to identify suspect components
Test Mode for lock diagnostics
All system device statuses viewable, with text descriptions
System Configuration Report
Maintenance interval monitor and alert
Software Revisions
On screen display of service contact information
On Screen Camera display with typical options available:
Inspection Tray (high magnification)
Approach Camera (High Dynamic Range; semi-covert)
Height strip
Dome cameras (locate as required)
Optional Voice Prompts in entry lanes for customer direction
Two color LED Status Light indicators on all four doors
Solid State Relay magnetic locks cycle tested to 3,000,000 passages
Assistance Request button with flashing indicator
Key Switch to turn off entrance, lighted indicator
Optional Left Object and Anti-Tailgating sensors
Dual or Single Lane configurations
Maintenance Console Features:
Provides access to system status and statistical information, diagnostics, and setup screens
Can be used as wired, non-IP, Operator Console, as a backup to wireless Tablet console
Also viewable via a web browser on the Tablet console or any connected PC
Provides data for remote diagnostic option
Password protected access
Automatic reset to Logo/Blank screen for security (idle timeout)
System can be configured without this unit, but then a portable console must be used for changing any system parameters or viewing diagnostic and status displays. (Not recommended, as it makes servicing the system more difficult.)
Additional Information:
Isotec provides certified installers and technicians for installation and support services. The price for ACE does not include in-depth installation support or technical support services related to hardware issues. Isotec requires that only factory trained, tested & certified technicians install the ACE operating system to repair older brand named security vestibules.
Isotec's Sophisticated Software Algorithms are based on years of experience with high-security facilities.  Custom algorithms, special features, and other sensors can be integrated on request. Isotec programmers can also re-configure the standard ACE Scenario of Operation to meet specific functionality requirements.
Depending on the security requisites and desired entrance functionality, the ACE operating system can be configured as Ethernet wired for connectivity or wireless. Either configuration is capable of remote diagnostics to reduce technician services and support cost.
To learn more about our ACE Security Operating System, and Synergy IQ call Isotec at 303.974.7699 or contact Matt Samels at msamels@isotecinc.com today!